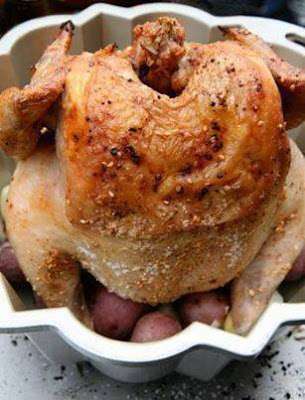 (cracks me up) 
Use your BUNDT pan!!!
Layer the bottom part of the pan with cubed red skinned potatoes and chucked sweet onion. Place the whole chicken (3-4 pounds) over the funnel part of the pan, upright with the legs downward. Rub the chicken with your favorite seasonings. Place the oven rack low enough to accommodate the entire pan. Preheat oven to 450. Bake at this temp for 15 minutes. Reduce heat to 350 and continue to roast for another 40-45 minutes.
Relieve the chicken of its bundt-y intrusion by carefully lifting it off with tongs. Set it on its back to rest on a plate. Check the roasted vegetables for done-ness. They should be tender but not mushy. If under-cooked, return them in the pan to the oven until done.
There you have it! An unusual but awesome roasted chicken !!!