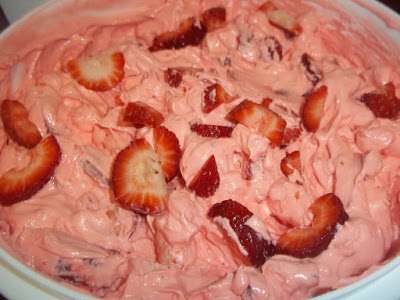 My favorite type of salads is the cold ones! Especially with strawberries! This strawberry fluff salad is so simple and easy to prepare and it's so yummy! Check it out!
You'll Need:
1 large package of Cook and Serve vanilla pudding.
1 large package of strawberry Jell-o.
2 cups of water.
1 (16 oz) of Cool Whip.
½ bag of mini marshmallows.
1 pint of fresh strawberries cut into bite size pieces.
How to:
Over medium heat, mix together the pudding, Jell-o and water in a small pan and bring to a boil.
Transfer to a very large mixing bowl and place in the refrigerator for 60 to 90 minutes.
Blend the mixture until creamy then mix in the Cool Whip. Fold in the marshmallows and strawberries and mix to combine.
Refrigerate covered until ready to serve.
Enjoy!
Easy, peasy and refreshing! Feel free to use any berry flavored jello you want! I personally use strawberries and sugar free jello. Give it a shot and let me know what you think!