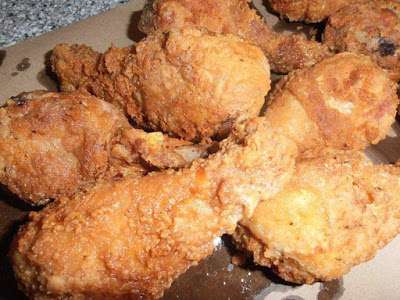 10 pieces bone in, skin on chicken (I used all legs tonight) 
2 C. all purpose flour
1 tsp. salt
1 tsp. black pepper
1/2 tsp. smoked paprika (optional, but adds good flavor)
2 eggs
1/4 C. heavy cream or milk (I used heavy cream)
vegetable oil for frying 

Set the chicken out about 15 minutes before you are ready to fry. In a large Ziploc bag combine the flour, salt, pepper and paprika. In a dredging type bowl/dish beat the eggs with the cream or milk. Using a large iron skillet (or other deep sided skillet, you could deep fry also), heat 1″ oil to 350 degrees. Take each piece of chicken and dip into the egg mixture then place in the Ziploc bag and shake around till well coated. Shake off excess and place in the hot oil. Repeat with a few more pieces (do not overcrowd the skillet, I cooked mine in two batches). Cook for 7-10 minutes or until the chicken is good and golden brown on the bottom, turn the chicken and brown the other side about another 7 minutes, continue turning and cooking the chicken another 6-8 minutes or until the internal temp. reads 165 degrees (white meat does not take as long as dark meat, so check after 15 minutes of frying). Remove chicken to a paper sack or paper towel lined plate.