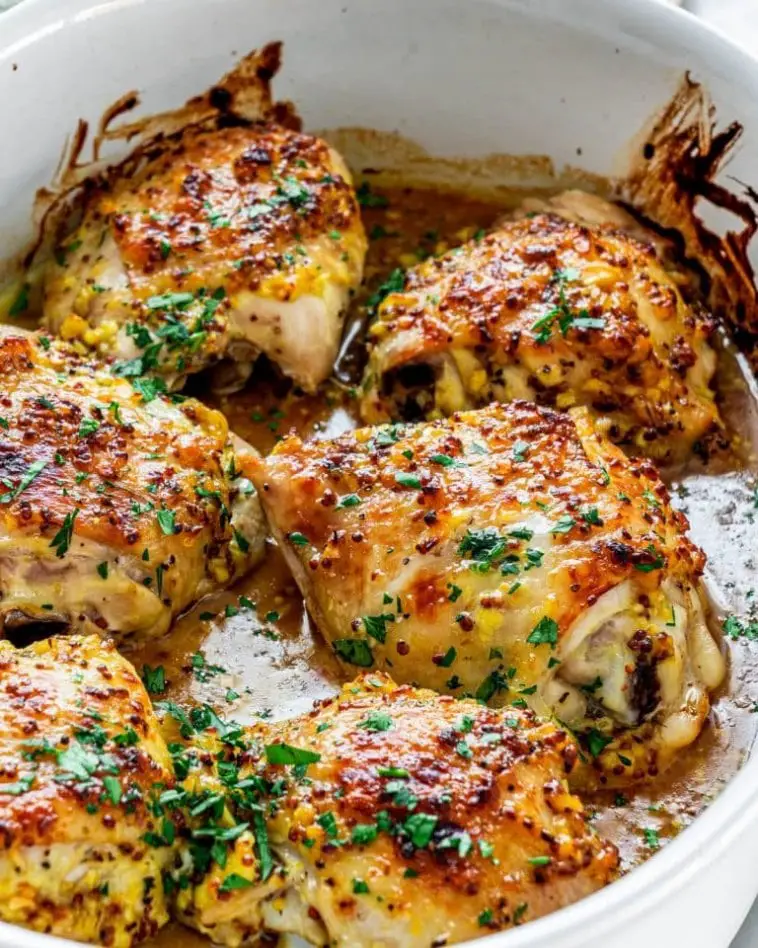 This Oven Baked Chicken Thighs recipe is a force to be reckoned with! Simple and deliciously baked chicken with a mustard, honey glaze – this dish is definitely going to be a top-contender in your weekly recipe planning!
How To Reheat Chicken Without Drying it Out
There are a couple different options when it comes to reheating chicken, the most common ways are in the oven or in the microwave.
In the oven: Preheat your oven to 325 F degrees and line a baking sheet with aluminum foil. Place the chicken in the centre of the aluminum foil and pull the sides up to completely wrap the chicken in the foil (brushing with a little olive oil prior to wrapping in foil will also help to keep the chicken crispy on the outside). Cook until internal temperature reaches 165 F degrees.
In the microwave: Place the chicken into a microwave-safe dish. Again you can brush the chicken with olive oil to help the chicken stay moist. Cover the dish with microwave-safe plastic wrap and cook for 2 – 3 minutes at a time, until internal temperature reaches 165 F degrees. If you're using regular plastic wrap – don't let it touch the chicken as it can transfer chemical to the meat.
INGREDIENTS
2 lb chicken thighs bone-in skin-on
1 tsp salt or to taste
1 tsp black pepper or to taste
Sauce
2 tbsp olive oil
1 tbsp whole grain dijon mustard
1 tbsp mustard
2 tbsp honey
6 cloves garlic minced
1/4 tsp red pepper flakes


---
INSTRUCTIONS
Preheat the oven to 425 F degrees.
Place the chicken thighs in a bowl and season them generously with salt and pepper.
Whisk all the sauce ingredients together in a small bowl.
Pour the sauce over the thighs and toss them well.
Transfer the chicken thighs to a 9×13 inch baking dish including any remaining sauce. No need to grease the dish.
Transfer the baking dish to the oven and bake for about 35 minutes or until the chicken thighs have an internal temperature of 165 F degrees and skin is crispy.
Transfer the chicken to a serving plate, cover with aluminum foil and let it rest for 10 minutes before serving.