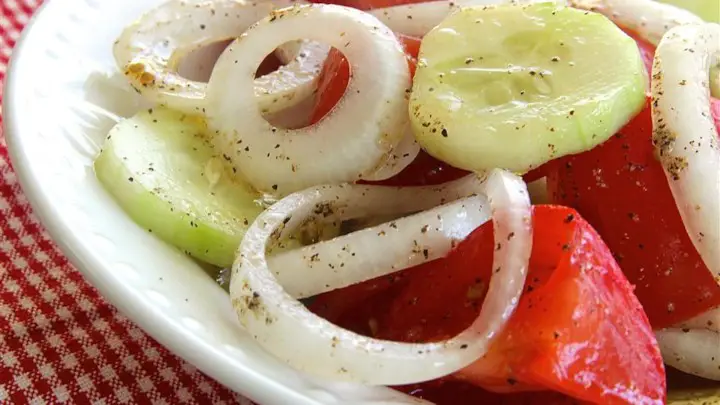 This is an easy salad that is perfect for a warm summer day, When it comes to classic summer salads, it's hard to beat this Marinated Cucumbers Onions and Tomatoes recipe…It just tastes like summer! This particular recipe is from Womack House, a long-ago country kitchen in Fulshear, TX.
I make a salad similar to this all year long (but with less pepper). I really prefer apple cider vinegar or white balsamic which gives you more tang instead of the very mild white vinegar, but this is a personal preference. You really can't go wrong with this simple Marinated Cucumber, Onion, and Tomato Salad, as it will complement most anything you're serving.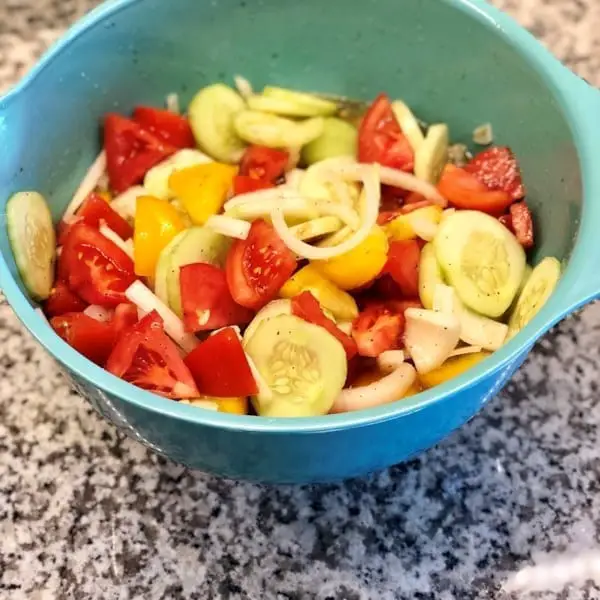 Ingredients
1 cup water
1/2 cup distilled white vinegar
1/4 cup vegetable oil
1/4 cup sugar
2 teaspoons salt
1 tablespoon fresh, coarsely ground black pepper
3 cucumbers, peeled and sliced 1/4-inch thick
3 tomatoes, cut into wedges
1 onion, sliced and separated into rings
Directions
Whisk water, vinegar, oil, sugar, salt, and pepper together in a large bowl until smooth; add cucumbers, tomatoes, and onion and stir to coat.
Cover bowl with plastic wrap; refrigerate at least 2 hours.