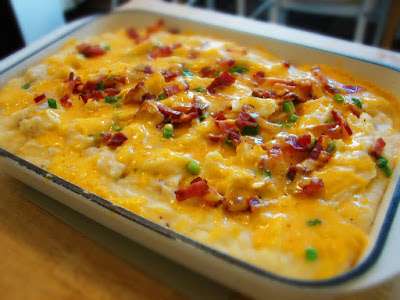 Ingredients:
8 medium potatoes (about 2 1/2 to 3 lb. total), peeled and cut into 1-inch chunks
1 cup NESTLÉ® CARNATION® Evaporated Milk
1/2 cup sour cream
1 teaspoon salt
1/2 teaspoon ground black pepper
2 cups (8-oz. pkg.) shredded cheddar cheese, divided
6 slices bacon, cooked and crumbled, divided
Sliced green onions (optional)
Directions:
first choose place potatoes in large saucepan. Cover with water; bring to a boil. Cook over medium-high heat for 15 to 20 minutes or until tender; drain.
make the oven in  350° F  andGrease 2 1/2- to 3-quart casserole dish.
after return potatoes to saucepan; add evaporated milk, sour cream, salt and pepper. Beat with hand-held mixer until smooth. Stir in 1 1/2 cups cheese and half of bacon. Spoon mixture into prepared casserole dish.
bake for 20 to 25 minutes or until heated through. Top with remaining 1/2 cup cheese, remaining bacon and green onions. Bake for an additional 3 minutes or until cheese is melted. 
ENJOY AND HAVE A NICE MEAL !!!