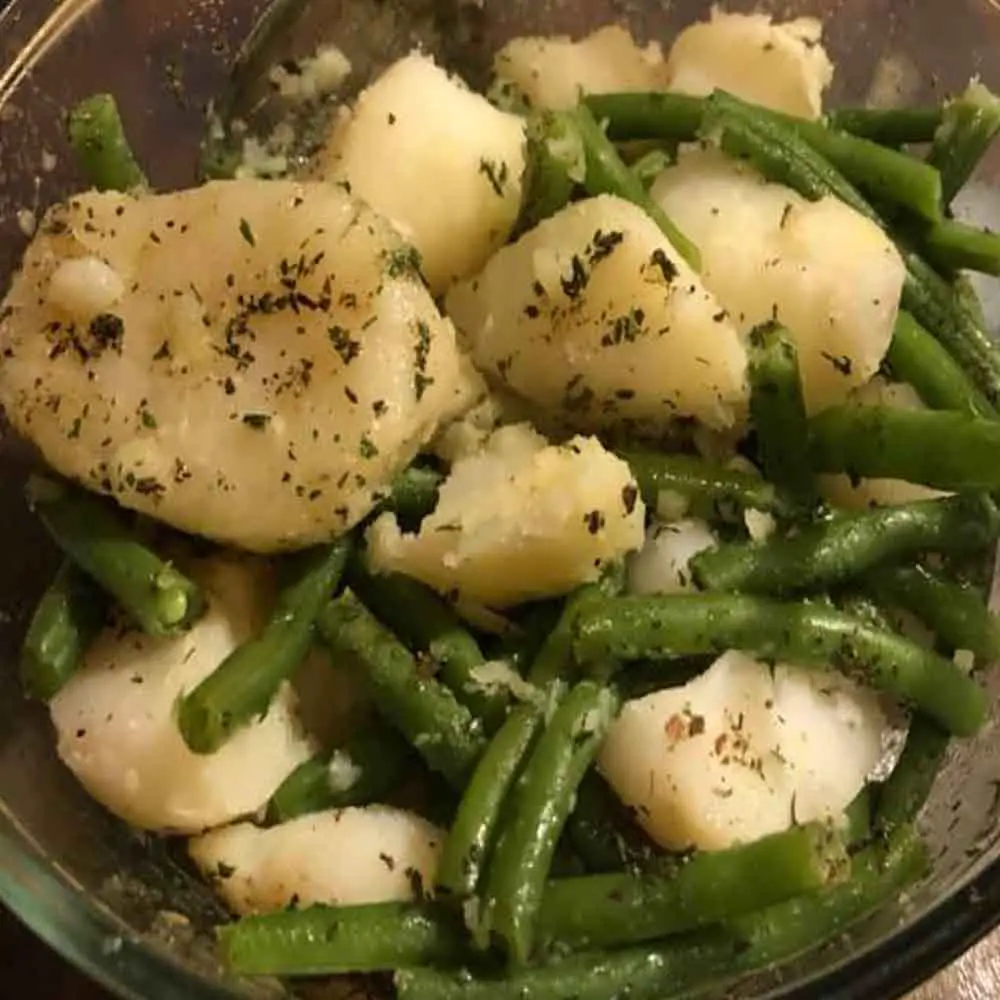 Potato and green bean salad. You don't need to peel the potatoes, do what you prefer. I cut my potatoes to bite size and boiled them until ready. Be sure to use fresh green beans or frozen – skip canned. I use green bean steamers (12 oz). You could use a sweet onion, like vidalia, in place of the red or green onion, or in addition. Add more veggies if you like. A sweet oil and vinegar dressing would be great. Sandi makes her salad ahead of time and chills it overnight. I made my salad and served it right away. I had leftovers and added a little more dressing when serving it the next day.
---
INGREDIENTS:
4 cups potatoes, cooked – use your favorite variety of potato – cut bite size
1 pound of green beans, cooked (cut to bite size if you like)
3 green onions, chopped
1 small red onion, chopped small
1/2 teaspoon oregano (or your favorite herb blend with oregano)
2 cloves of garlic, pressed
salt & fresh cracked pepper to taste
DRESSING:
The recipe calls for Newman's Own Olive Oil & Vinegar Dressing. You can also make your own or use your favorite vinegar and oil dressing from the store. I have used Good Seasons Zesty Italian Dressing – excellent on this salad too!
In a small bowl or jar, pour desired amount of dressing (at least 1/3 cup) and add the pressed garlic and oregano to the dressing and mix.
INSTRUCTIONS:
1 ) Place cooked potatoes, green beans and onions in a large bowl.
2 ) Add desired amount of the oil and vinegar dressing mixture, lightly toss.
3 ) Salt and pepper to taste. Chill in fridge or serve immediately. Enjoy!