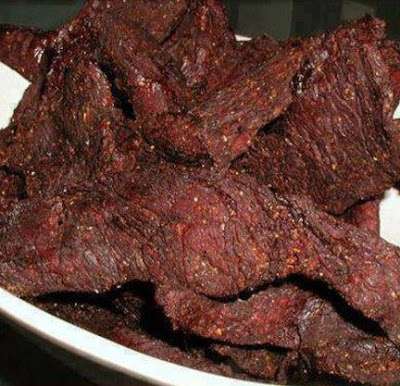 4 lbs. London broil beef or 4 lbs. flank steaks
2 teaspoons black pepper
2 teaspoons chili powder
2 teaspoons garlic powder
2 teaspoons cayenne pepper, more if you like it hot
2 teaspoons onion powder
1 teaspoon liquid smoke
1/4 cup soy sauce or 1/4 cup low sodium soy sauce
1/2 cup Worcestershire sauce
1/2 cup Frank's red hot sauce


How to make it :

1. Trim all fat off meat.
2. Cut steak in to 4 inch strips.
3. The steak should be about 1/2 inch thick.
4. It's easier to cut meat partially frozen.
5. Pound meat lightly, you don't want it too thin.
6. Add all ingredients in a large bowl.
7. Mix well.
8. Cover and refrigerate overnight (8 hrs.).
9. Line cookie sheets with tin foil.
10. Place steak strips on sheets, don't overlap meat.
11. Set oven at lowest temperature. (150-175°F).
12. Bake six hours, turning after three hours.
13. Jerky is done when meat is dried out, depending on your oven.
14. Worth the wait!