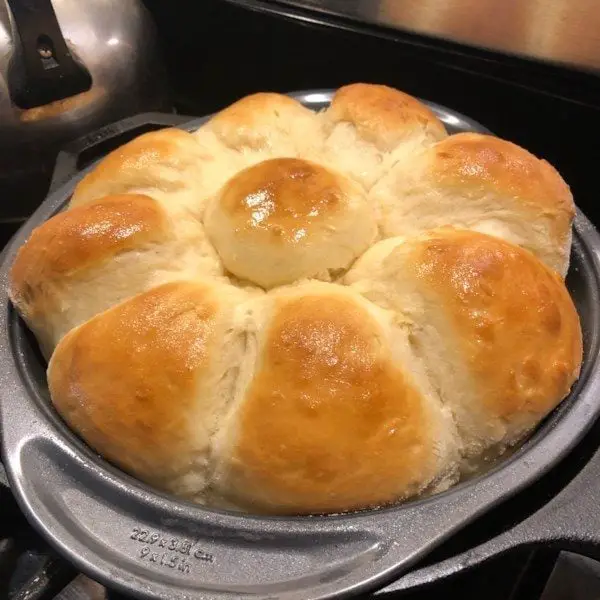 HOW TO MAKE OLD-FASHIONED SOFT AND BUTTERY YEAST ROLLS?
These rolls are simple to make and do not involve the use of a bread machine. They're the "Only THAT Sweet" Fluffy and Buttery Yeast Rolls produced by hand. They regularly yield massive, big, smooth, fluffy, and buttery rolls. Kneading and rising time are included in the prep time.
They can be made in whatever direction you choose, or you can bake them in muffin cups. When baking, they produce a delightful yeasty smell that takes me to yeast roll heaven!
FOR LEFTOVER ROLLS:
The magic of "right out of the oven" hot rolls can be recreated just if you put them in the microwave for 10 seconds!
Nothing beats the scent of freshly baking bread, and these buttery rolls can make your mouth water when they bake. They're super fluffy straight out of the oven and melt in your mouth. They'll go well with a holiday meal and are so quick to create that you'll find reasons to make them again and again.
You'll need this list of ingredients to prepare these buttery yeast rolls:
380 grams.Of all-purpose flour.
260 grams.Of whole milk.
70 grams.Of rapeseed oil.
60 grams.Of regular white sugar.
5 grams.Of kosher salt.
1 medium bag.Of vanilla sugar.
An envelope.Of baker's yeast.
STEP-BY STEP DIRECTIONS:
Step 1:
I heated the milk in the microwave for 25 seconds, you need to be careful not to overheat it or the yeast will die!
Step 2:
In a lukewarm moche, I dissolved the baker's yeast and set it aside for approximately 10 minutes.
Step 3:
After that, I combined the flour, with the white sugar, kosher salt, and the bag of vanilla sugar in a medium mixing bowl.
Step 4:
Then, I added in the rapeseed oil, and I mixed well until combined, and I gradually poured in the heated milk and yeast combo.
Step 5:
And then, I kneaded the dough until it was soft and homogeneous, and I covered it in a salad bowl with a tea towel, and I leave the dough in a warm place until its size multiplied.
Step 6:
At this point, I needed to preheat the oven to 180 degrees Fahrenheit.
Step 7:
On a lightly floured work surface, I buttered the mold and put a baking sheet on top.
Step 8:
I degassed the dough with the palm of my fingers, and divided it and made normal dough balls, and put them in the mold, separating them slightly.
Step 9:
I leave them for around 20 minutes of resting time before brushing the brioche with milk and baked them for 25 minutes in the preheated oven.
Give it a quick try!! It really deserves it, for more easy bread recipes like this one, take a look at the related posts below!!