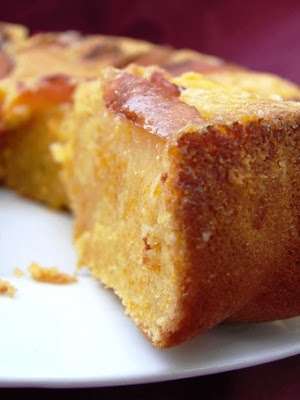 1           cup           chopped pecans
   1        package      yellow cake mix
   1           large          package instant vanilla pudding
   4           large         eggs
     1/2      cup           cold water
     1/2      cup           vegetable oil
                        10 inch spring-form pan
How to make it :
1.  Butter and flour a 10″ spring-form pan (must be 10″).  Sprinkle pecans on the bottom of the pan.
2.  In your mixer bowl put the rest of the ingredients and beat till smooth and fluffy.
3.  Bake 1 hour at 325.     Cool the cake.  Invert the cake on a cake plate and pierce the top of the cake all over with a roasting fork or a skewer or a chopstick.  You want holes all over the cake.
4. While the cake is cooling, make the rum glaze.   Drizzle rum glaze all over the cooled  cake and let it sit until it soaks in completely.
                        GLAZE 
     1/2  cup           butter
     1/4  cup           water
       1   cup           sugar
     1/2  cup           dark rum.
                        melt butter, stir in water and sugar
                        boil 5 minutes stirring constantly,
                        remove from heat and stir in rum.
This cake is even better if you can make it the day before you are going to serve it.  Letting it sit in a cake keeper for a day allows the flavors to meld.