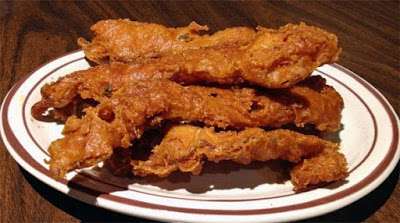 Sometimes we desire to have a nice fried side dish, such as this amazing chicken fried bacon! I don't make this so often, but when I do, we all love it! Check out the recipe.
You'll Need:
15 strips of thick cut bacon.
1 ½ cups of all purpose flour.
2 tsps of baking powder.
1 cup of buttermilk.
2 eggs.
1 tbsp of cayenne pepper.
1 ½ tbsps of chili powder.
1 tsp of paprika.
Salt and pepper.
How to:
In a large bowl, mix together the dry ingredients until well combined.
Add in eggs and milk and whisk until the mixture is smooth. Set aside for 5 to 10 minutes.
Preheat some vegetable oil in a pan or a deep fryer at 350°, dip each strip of bacon into the mixture you made and fry it for 10 minutes until brown and crispy.
Continue with the rest of the strips and voila!
Easy, peasy and crispy! My family loves fried food, I know it's not that healthy, but I try my best to control the situation!