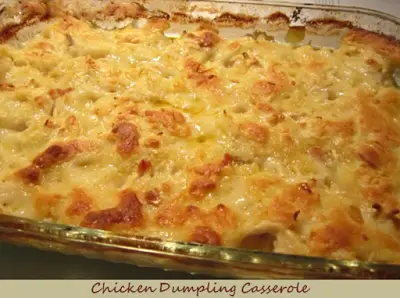 Ingredients
3 boneless, skinless chicken breasts, boiled and shredded* 
2 cups chicken stock (from boiling the breasts above) 
1 stick of butter ( 8 Tbsp which equals 1/2 cup) 
2 cups Bisquick or self-rising flour
2 cups 2% milk (whatever you prefer)
1 can cream of chicken soup (the herbed cream of chicken soup adds lots more flavor)
3 t. Wylers chicken granules or 3 bouillon cubes
1/2 t. dried sage 
pepper & salt, as desired 
 (*you can use any chicken you choose this is simply what we use most often)
Directions:  
Preheat oven to 350 degrees. Place boneless, skinless chicken breasts in sauce pan with enough water to cover the chicken. Bring to a boil, then turn off the heat; place a lid on your pot and allow to sit for 10-15 minutes to finish cooking. Remove chicken from stock (reserve the stock) and allow to cool, then shred the chicken. 
When building the layered casserole, do not mix the layers. 
Layer 1 – In 9×13 or larger casserole dish, melt 1 stick of butter.  Spread shredded chicken over butter.   Sprinkle black pepper and dried sage over this layer.  Note: If you want to serve this as a pot pie, add a layer of vegetables now.  
Layer 2 – In small bowl, mix milk and Bisquick. Slowly pour over chicken.
Layer 3 – In medium bowl, whisk together 2 cups of the chicken stock (strained, if needed), chicken granules and soup. Once blended, slowly pour over the Bisquick layer. 
(Tip – Add some of the hot stock to the soup can to help melt the soup and get it all out of the can).
Bake time varies by oven and the size pan you decide to use, therefore, bake until the top is golden brown- approx. 50-60 minutes.