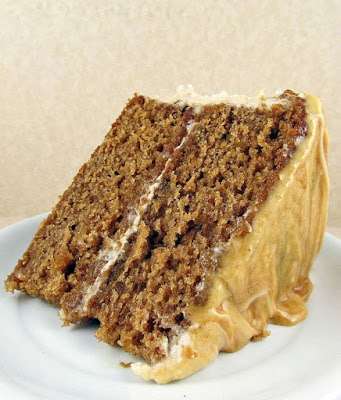 INGREDIENTS:
3 + 3/4 cups all-purpose flour
1 tablespoon baking powder
1½ teaspoons baking soda
1½ teaspoons ground cinnamon
½ teaspoon salt
1½ cups brown sugar
1/2 cup canola or vegetable oil
1 cup fresh shredded apples, use large holes box grater
¾ cup jarred caramel dessert sauce or dulce de leche, plus more to drizzle over top
2 teaspoons vanilla extract
3 eggs
1½ cups buttermilk
Frosting:
8 ounces cream cheese, softened
6 tablespoons butter, softened
1 + 1/2 teaspoons cinnamon
1 teaspoon vanilla extract
5 cups (approximately) confectioners' sugar
Prep Time: 35 minutes
Cook Time: 35 minutes
Total Time: 1 hour, 10 minutes
Yield: 12 servings
INSTRUCTIONS:
Preheat oven to 350 degrees F. Grease and flour three 8-inch round cake pans.
In a large bowl whisk flour baking powder, baking soda, cinnamon and salt together. In a separate large bowl, beat sugar and oil together until combined. Add caramel and vanilla, beat for 30 seconds, then add eggs one at a time, beating well after each addition. Stir in shredded apples, draining off any juice that may have accumulated first. Add flour mixture in three parts, alternating with the buttermilk, beat until well combined.
Divide batter evenly among the prepared cake pans and bake until golden brown and a toothpick inserted in the middle of each cake comes out clean, about 35 minutes. Cool on wire racks 10-15 minutes, turn out onto wire racks and cool completely before frosting with cinnamon cream cheese frosting.
Frosting:
In a large bowl beat cream cheese and butter together on low speed until fluffy. Beat in cinnamon and vanilla extract. Beat in confectioners' sugar a cup at a time, on low speed, continue beating about 5 minutes until light and fluffy, adding more sugar if needed to reach a good spreading consistency.
Notes:
-The original recipe calls for 2 (9-inch) cake pans but after filling two 8-inch cake pans I had a lot of batter left over, enough to make 2 additional 6-inch layers. You can easily make a three layer 8-inch cake or do what I did and make a big cake and a baby cake.
-Be aware the batter is thinner than most cakes, kind of like soup.
-When beating in the caramel it may seem as if it is seizing up but just forge ahead and all will be fine in the end.