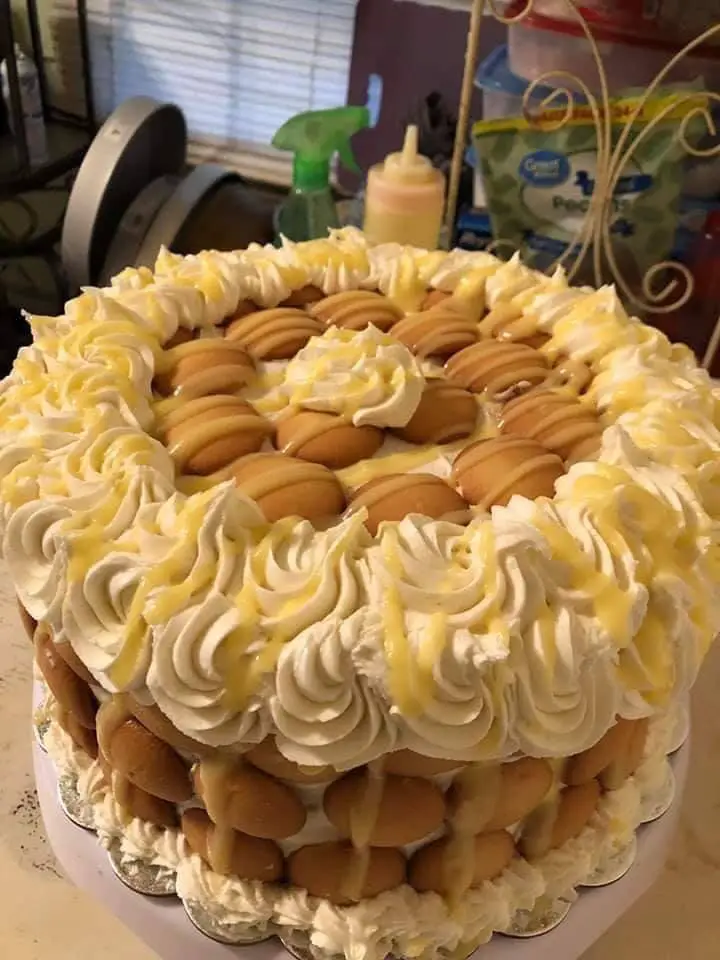 In a whirlwind of spit-ups, late-night feedings and more TV than I've ever watched in my life, Lucy James turned 2 months old last Saturday. If you're following me on instagram, you know that these monthly milestones call for cake. Not for her, mind you. Although, eventually, when she's graduated from breast milk, I hope she'll taste and bake them all with me.
Instead this series is a challenge for me to explore new techniques, recipes, flavors and have a some fun in the kitchen. Basically, it's an excuse for mom to play with her food a little;) And this series is about me connecting with other mama bakers out there looking for fresh inspiration and cleaned-up versions of childhood favorites.
Given my recent binging on The Great British Baking Show, my mind has been swirling on sponge cake. (If you've seen the show, you'll know what I mean.) So, I decided to play with some sponge recipes for an All-American Classic with this Banana Pudding Baby Cake with Homemade 'Nilla Wafers.
This cake features a few different simple components (all worthwhile basic recipes to master in the Baking and Pastry world, if you haven't already) that come together for a cute little baby cake without a ton of sugar and a pretty basic flavor profile that should appeal to tiny little taste buds. Brushed with simple syrup, the cake is super soft and moist, just like traditional Banana Pudding, and ideal for smash cakes and such.
You'll need just one banana and a few easy components listed below, which I recommend prepping a day in advance:
PREP THE COMPONENTS (A DAY IN ADVANCE)
For the wafers and cake, prep a half batch of the Homemade Lady Finger recipe from the Kitchen McCabe.
Pour 2/3 cup of batter each into two 4″ round cake pans, prepped with butter and flour.
Pour the remaining batter into a piping bag fitted with a 1/2″ round tip.
Pipe half-dollar size rounds onto a baking sheet lined with parchment or a silpat.
Using a fine mesh sieve, sprinkle confectioners sugar over wafers, only, not cake batter.
In a 400 degree oven, bake cakes for about 15 minutes, until just cooked through, and wafers for about 8-10 minutes, until lightly golden brown; once cooled, store wafers and cakes in ziplocks or airtight container overnight.
Make my basic vanilla custard recipe; store covered in fridge overnight.
Make a half-batch of my go-to cream cheese frosting recipe. Find that recipe here, but omit the candy caps. Prep frosting in a piping bag fitted with a star tip.
Make a vanilla simple syrup by combining 1/2 cup sugar, 1/2 cup boiling water and 1 tsp vanilla; stir until dissolved and, once cooled, store in sealed container in fridge overnight.
ASSEMBLE THE CAKE
Using a cake leveler, cut cake layers to desired height. I made my layers just 1″ tall.
Using a pastry brush, coat each sponge layer with a generous amount of simple syrup until layers are soaked through.
Place bottom layer on cake board and pipe cream cheese frosting in tight stars around edge to create a wall, ensuring there aren't any gaps between frosting and cake for pastry cream to seep out.
Spoon 2-3 tablespoons of pastry cream into center of bottom cake layer and spread to fill layer within cream cheese frosting.
Top with chopped banana slices.
Place top cake layer over bananas.
Cover top layer with piped cream cheese frosting, homemade wafers, wafer crumbs and fresh banana, and serve immediately.*