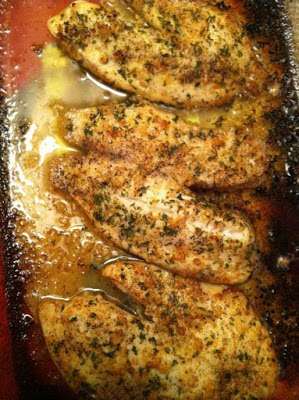 The benefits of fish are known to everybody, and yet we don't consume it that much. Today, I'm presenting you a recipe for a lemon garlic tilapia which is from top of the list. Check it out.
You'll Need:
3-6 tilapia filets.
6-8 crushed and diced large cloves of garlic.
2 ½ tbsps of butter (4 tbsps if no cooking spray).
4 tbsps of fresh lemon juice.
3 tsps of fresh or dried parsley.
1 tsp of fresh or dried oregano.
Salt and pepper.
Cooking spray.
How to:
In a saucepan over low heat, melt 2 ½ tbsps of butter, sauté the garlic for 1 minute. Add in 3 tbsps of lemon juice, the parsley, oregano, salt and pepper and mix together then turn off the heat.
If you have cooking spray, spray lightly the baking dish, if not, use 1 ½ tbsps of butter. Pour 1 tbsp of lemon juice in the dish then place the fish on top and season with herbs, salt and pepper. Pour the lemon mixture over the fish and sprinkle some parsley for garnish.
Bake in a preheated oven to 400° until the fish is cooked through.
Enjoy!
Simple, easy and delicious! The lemon and garlic give an amazing taste to the tilapia filets. I serve this with a veggie salad for lunch. Give it a try, you will love it!