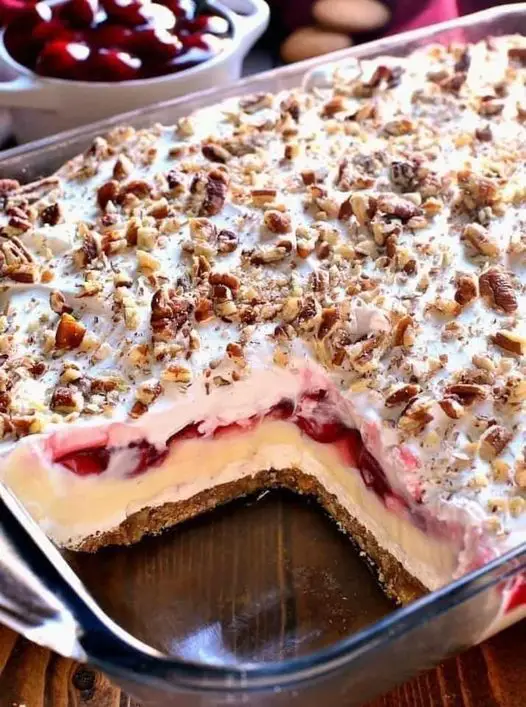 The best cherry cream cheese lush layered dessert you have ever tasted.
Simple and easy ! My whole family loves this recipe so much. If it were for them, I'd be making this every day! Give it a shot, you'll love it!To Make this Recipe You' Will Need the following ingredients:
I love those recipes that we all grew up with, they are just too good to miss out on.
Ingredients
Crust
1 c. vanilla wafer crumbs
1 c. finely chopped pecans
1 stick butter (½ cup) melted
8 oz. cream cheese softened
1 c. powdered sugar
16 oz. whipped topping divided
2 small boxes cheesecake flavored pudding
3 c. milk
1 can Lucky Leaf Cherry Pie Filling
½ c. chopped pecans
---
Instructions
In a medium mixing bowl, combine vanilla wafer crumbs, finely chopped pecans, and melted butter.
Press into a 9×13 inch baking pan; bake at 350° for 15 minutes.
Remove from oven and cool.
In a separate mixing bowl, combine cream cheese, powdered sugar, and 1 ½ c. whipped topping.
Mix until smooth; spread evenly over cooled crust.
Combine cheesecake pudding mix, milk, and 1 c. whipped topping and mix until smooth.
Spread evenly over cream cheese layer in pan.
Top with 1 can Lucky Leaf Cherry Pie Filling, remaining whipped topping, and ½ c. chopped pecans.
Servings 12