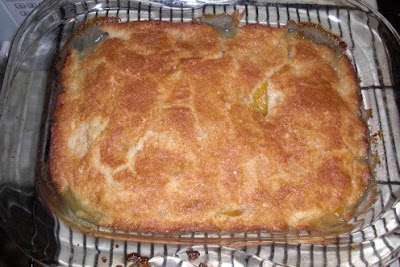 Fruit cobbler is famous and every family has it's own recipe! This old fashioned fruit cobbler recipe is my mother's in law! Whenever she pays us a visit, she makes us this!
You'll Need:
1 stick of butter.
1 ½ cups of flour.
1 ½ cups of sugar.
2 tsps of baking powder.
½ tsp of salt.
1 ½ cups of milk.
1 tsp of almond extract.
1 quart of drained canned fruit.
How to:
Add the stick of butter to a 9×13 baking dish in place in a preheating oven to 350°.
In a bowl, mix together the flour, sugar, baking powder and salt until well combined, then add in the milk and almond extract gradually.
Pour the mixture over the butter and add the drained fruit pieces to the top.
Bake for 40 minutes and top with cream or vanilla ice cream!
Enjoy!
Simple,easy and delicious! You can use any fruit you like, we love this with peaches and some vanilla ice cream on top! Give it a shot, you will love it!