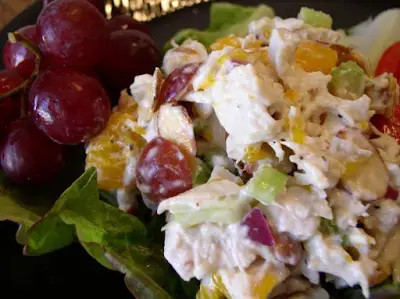 3 cups cooked chicken, diced
1 cup celery, thinly sliced
1/2 cup onion, minced
1 teaspoon salt
2 tablespoons lemon juice
1 cup seedless grapes, sliced
1/4 cup mayonnaise
1 (11 ounce) cans mandarin oranges, drained
1/2 cup toasted almond
romaine lettuce or boston lettuce
Directions
In a large salad bowl blend together chicken, celery, onions, salt, lemon juice, and grapes. Refrigerate 4 hours or overnight.
Just prior to serving add mayonnaise, oranges, and almonds, tossing gently to avoid breaking the oranges.
Serve on leaves of Romaine or Boston lettuce or scoop generously into a avocado half.
Serves 4 large portions or 8 smaller ones.