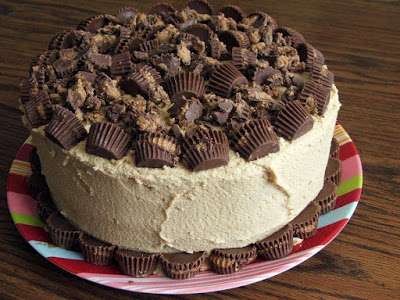 For the Cake:
1 box chocolate cake mix (I used devils food cake)
Ingredients listed on cake box
Prepare cake mix according to package directions. Pour batter into two 9 inch greased and floured round cake pans. Bake according to package directions. Let cool for 10 minutes in cake pan, then run a knife around the edges and transfer to a cooling rack to cool completely.
While the cake is cooling, prepare the filling.
FILLING:
1 cup semi sweet chocolate chips
1 cup heavy cream
1/2 cup creamy peanut butter
1/2 cup Reese's peanut butter cups, roughly chopped
Heat the cream until it just begins to boil. Pour it over the chocolate in a medium bowl. Whisk together until the chocolate is melted and it is combined. Then Whisk in the peanut butter until it's all incorporated and smooth. Set aside 1/4 of the filling. Cool the other 3/4 completely, then gently stir in the peanut butter cups.
When cake and filling are cooled, spread the filling with the peanut butter cups in it on top of one of the cakes. Place the other cake on top of the filling. Using the reserved filling (without the peanut butter cups) spread a thin layer on the entire outside of the cake. Place in the fridge until the fudge is set and firm to the touch.
Now prepare the frosting.
FROSTING:
1/2 cup creamy peanut butter
1/2 cup butter, at room temperature
2 tsp vanilla extract
2 cups powdered sugar
Cream together the butter and peanut butter. Add the vanilla, then the sugar and beat until fluffy.
Spread the peanut butter frosting over the whole cake. Decorate with peanut butter cups.