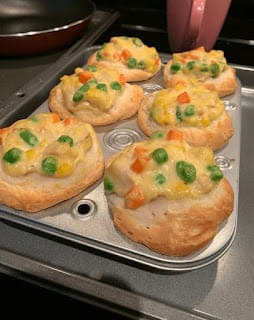 *Ingredients
°8 degree cookies
°1 cup cooked chicken breast, diced (all remaining chicken works)
°1 can (10 1/2 ounce) reduced fat chicken cream
°2/3 cup low-fat shredded cheddar cheese
°1 1/2 tsp frozen vegetables, thawed (I used 1 tsp corn, peas and carrots and 1/2 tsp broccoli)
°1 teaspoon dried parsley flakes
°1 teaspoon chopped onion
°1/4 tsp black pepper
°1/2 tsp salt
---
*Directions
*Preheat oven to 400 degrees. Cook chicken as you wish, then cut into small pieces.
Separate the cookies and place each cookie in a cup of a lightly greased 12-hole muffin pan, pressing the dough on the sides to the edge of the cup.
In a medium bowl, combine the chicken, chicken soup, vegetables, cheddar, parsley flakes and black pepper. Mix well.
Spread chicken mixture evenly in prepared cookie pans.
Bake for 12 to 15 minutes or until golden brown.
Remove from oven. Place muffin pan on rack and let stand 2-3 minutes. Serve immediately
Enjoy !