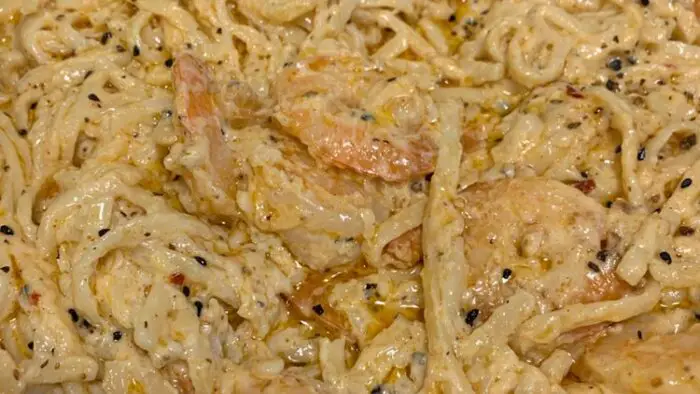 Ingredients
3/4 lb Fettuccine pasta
1 lb shrimp
1 tbsp oil
1 small onion
2 tbsp butter
1 garlic clove
1/3 cup white wine
2 cups heavy whipping cream
1/3 cup Parmesan cheese
Salt and pepper to taste
Sprinkle of paprika, parsley or basil for garnish i used paprika, parsley and 1 tablespoon red pepper flakes i like a little spice in my life
---
Directions
Be sure to cook pasta as directed on the box drain buy do not rinse; set aside.
Then add season shrimp with 1/4 tsp paprika, blackpepper and salt to a small bowl.
Select a large skillet and add the tablespoon of oil, then the shrimp cook for about 1 miniutes per side.
Once this is done, remove the shrimp then add the 2 tablespoons of butter onion and garlic cook for about 2 minutes then add the white wine cook like 3 miniutes then add the 2 cups of heavy cream.
Let it boil then add the parmesan and stir until dissolved, then you may want to add the shrimp and pasta to the sauce and combine and cook for 3 more miniutes.
Finally, add salt and pepper to taste and sprinkle with parsley, basil or paprika. I always use 1 tbsp of parsley flakes and a little paprika for garnish