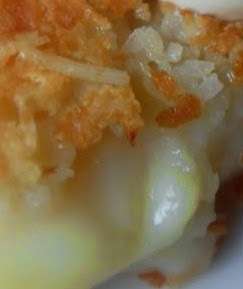 Ingredients:
500ml of milk (2 cups)
2.2 ounces plain flour (1/2 cup)
1 tsp baking powder
1/4 tsp salt
4 large free range eggs
8.5 ounces sugar (1 1/4 cups)
1 1/2 tsp vanilla extract
3 ounces sweetened flaked coconut (1 cup)
Directions:
1-Preheat the oven to 180*C/350*F/ gas mark 4. Butter a 9 or 10 inch pie dish well. Set aside.
2-Measure the milk, flour, salt, baking powder, eggs, sugar and vanilla into the bowl of a food processor or into a blender. Blend together for 3 minutes. Add the coconut and blend for about 2 or 3 seconds longer. Pour this mixture into the buttered pie dish.
3-Bake for 30 to 35 minutes, until the edges are set and the centre just a bit wobbly. Remove from the oven and let cool, or serve warm. If cooling and serving later, chill in the refrigerator and warm a bit before serving.