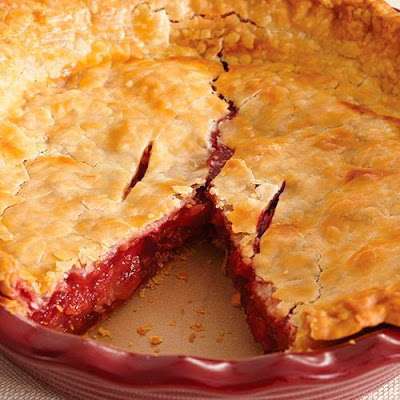 INGREDIENTS
1 package (15 ounces) refrigerated pie crusts (2 crusts)
1-1 1/4 cups sugar
1/3 cup cornstarch
1/2 teaspoon ground cinnamon
5 medium baking apples such as Braeburn, peeled, cored and sliced (about 5 cups slices)
1 cup frozen sweetened raspberries (not in syrup)
1 egg
1 tablespoon water
Vanilla ice cream (optional)
DIRECTIONS
Preheat oven to 400°F. Let pie crusts stand at room temperature 15 minutes. Gently unfold crust onto lightly floured Baker's Mat. Roll one crust into a 12-inch circle. Place crust in Deep Dish Pie Plate, pressing dough into bottom and up sides.
In large bowl, combine sugar, cornstarch and cinnamon; mix well. Toss apple slices with sugar mixture until evenly coated; gently stir in raspberries. Spoon apple mixture into bottom crust.
Roll remaining pie crust into a 12-inch circle; place over filling. Fold top crust under bottom crust; seal and flute edges. Whisk egg and water in small bowl; brush evenly over crust. Cut four slits in top crust to allow steam to escape. Gently place Pie Crust Shield over edge of pie. Bake 45 minutes; remove Pie Crust Shield. Bake an additional 10-15 minutes or until crust is golden brown and apples are tender. Remove from oven; cool at least 2 hours. Serve with ice cream, if desired.
Yield:
8 servings of (excluding optional ingredients)