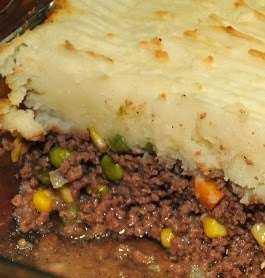 Ingredients:
6 -7 potatoes
1 -1 1/2 lb ground beef
3 (10 1/2 ounce) cans campbells vegetarian vegetable soup
1 (15 ounce) can corn
1 (15 ounce) can peas (optional)
1/2 cup salted butter
1/3 cup whole milk
salt
paprika
Directions:
1-Peel and cube potatoes and set into a pot of water and bring to a boil. Cook them until a fork slides in the potatoes easily.
2-In a large non-stick pan brown the meat and salt to taste. Drain the meat of excess fat.
3-Add the 3 cans of soup and drained can of corn to the meat(drained can of peas optional). Set over med to med/high heat and stir occasionally until the juices thicken extra thick.
4-Remove and drain the potatoes when they are ready. Add the butter and milk. Mash to remove any potato chunks and use your hand mixer to mix well while salting to your taste.
5-Remove the meat/soup mix and place into a dish. Top the mix with the prepared potatoes. Sprinkle w/paprika as a decoration.
some kitchen's tricks: